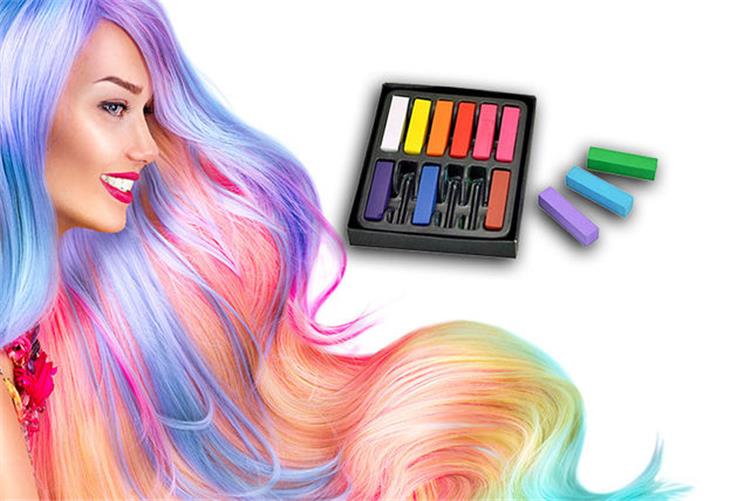 Hair chalk is a shout of high fashion, which has become widespread to satisfy the wishes of some girls to get the colors of their hair and the colors are distinctive and are changed continuously and periodically, and at the same time in a simple and simple and requires only the taste to choose the appropriate colors appropriate and make them in tune with each other , And is available in twenty-four colors and has different degrees, and also available in two forms either circularly, such as ice-pens, or in the form of fingers.
How to make chalk
First Ingredients: Bring 2 tbsp tannins + 1/2 tbsp pure clay + 1/2 tbsp medical alcohol + 1/2 tbsp water + 1/2 tbsp starch + rubber gloves + bib + spray pack Water + Comb + Electric Hair Dryer + Hair Stabilizer.
The method of work Mix the color of the dry hair with the clay in a large bowl and mix the starch with the water in another pot and then put them inside the microwaves for about 5 seconds until the mixture is thicker and thicker, and if not thick, you can increase the duration for about 3 seconds and then add the medical alcohol to The ingredients are dry and mix very well with your hands. The gloves should be worn first, then add the starch mixture and mix well so that it is not lumped and the textures are correct and then bring the resulting mixture to the butter paper. To dry, then a bit Agent dough in the form of a small finger-like form of chalk so easy to work out and hair coloring as well.
Tips before use
– First, it is recommended to wear rubber gloves for hands before use to keep my hands, because it affects the hands.
– Wear clothes you will not go out so as not to get dirty spots and choose clothes suitable for the task.
– You should wear rubber gloves to keep your hands and processing a soft brush before you start.
Hair Coloring with Chalk
In the beginning, you should be familiar with the colors that fit your skin and make your appearance look new and beautiful and you can also choose colors that match with your clothes.
– Divide your hair into small follicles. We recommend that if your hair is a dark color, you should moisten all of its hair with water, but if your hair is light or blond, there is no importance to its water.
You can color them with more than one color as you see what is suitable for you or want. The color of the chalks is from the bottom to the top, and then you have to comb the tufts with a soft brush so that you can get rid of the soft chalk residues. On the hair.
– So you can stay and install the colors on the hair follicles for a long time first you have to dry the electric dryer and the Kishwar and then brush the hair stabilizer and then put the gel on it.
– If you want to work pigment is recommended to paint in different colors to highlight the beauty and become more distinct and prefer to color a group of high-grade and then perform the work of the plexus.
If your hair is dark dark, coloring your hair in colors that are blue or pink and green is best suited to it. Unlike light or blond hair, coloring it with multiple colors will be the most suitable for it.
– If your hair is long, coloring the outline at the bottom is most appropriate.
Damage to chalk: The scalp is affected by any chemicals made from chalk, regardless of whether it is good quality or not. The scalp can only be determined after the chalk is actually used. It is advised that when the scalp is affected by the chalk, appropriate treatment should be provided. It's fast. Although the dyes differ most are made up of essential substances such as ammonia, this substance mainly causes hair loss and damage, so you should look for good chalk that does not contain this substance. Chalk significantly affects fetuses, which may lead to congenital malformations that may be difficult to treat after birth.